1000 miles and 6 weeks on the SV
Update after 5 weeks with the new bike.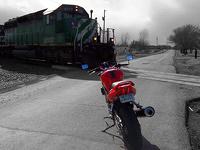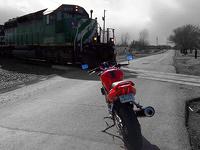 I've had the motorcycle for 5 weeks now and I'm really digging into it. I've moved the plate back to the back and have an alarm ready to finish installing once I get the new shorty turn signals. I drilled eight 1/4" holes in the baffles to let it breath and make some more sound. It's a bit louder idling and sounds nicer while engine braking. I flipped the arm around on the shifter to convert to GP style (reverse with clicking down for upshifting) and will probably try it for a while longer. I still need to hook up the garage door opener to the flash to pass switch. I'm going to get some matching shorty turn signals to replace these quick flashing LED turn signals.
Sometimes I even drive the bike. I've been taking a few trips on the weekends and losing track of time. I try to take the camera with me and get some shots whenever I get to a town I haven't shot before. Last few rides, the camera has been staying home. I'm trying to find the balance in riding and picture taking. Guess I need to get a nice tank bag to keep the camera in so it's not in the way. I've put some pictures up in the gallery over on my other site (strog.org). I went to Spavinaw, OK the other day and it has a really nice windy road heading there. It was pretty in town with the creek running by. I wish I had the camera with me. The first longer trip I took on the bike was to go to Tahlequah, OK.
The more time I've put on the bike, the more I realize that it's like starting over after being away for several years. Sometimes I want to get nervous at a turn that seems too fast when I know it's easily within my skill level and capabilities of the bike. I take a breath, think my way through the turn, look through and exit cleanly. The turn wasn't too fast or difficult, I just need to get comfortable again. I need to take the motorcycle safety course(s) to speed up the process. I'd like to eventually do some track days on the bike but that will be down the road. I'll go out to Hallett next weekend and just watch.