CA to OK on a F650GS
Fly out to pick my new (to me) BMW F650GS motorcycle in CA and ride back home in OK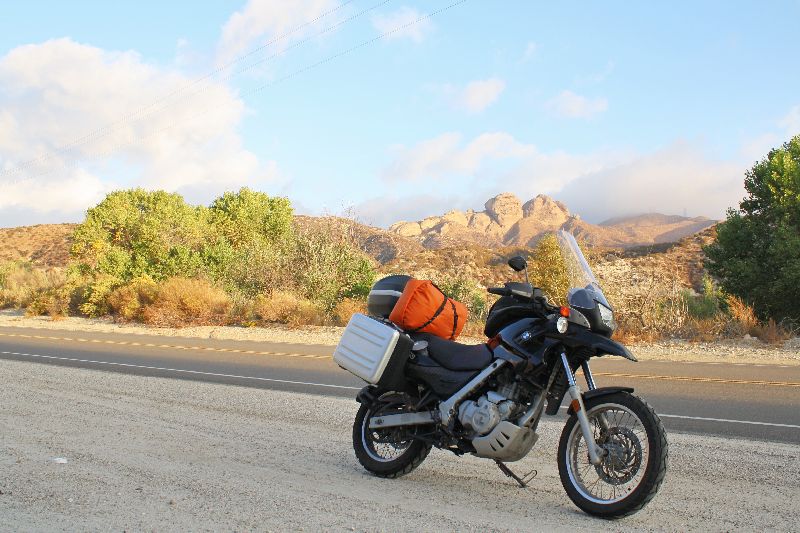 My last ride report was me giving my SV650 to a friend's son to be his first bike. It's gone on Wednesday and I have no idea when I'm going to get another bike. I'm making plans to take the family camping in the Jeep in the spring. I'll find other fun while I figure out getting another motorcycle.
My brother-in-law contacts me the following Monday. He says he's coming back to Broken Arrow to get his car that he left with his parents when he moved back to California this spring. They are living in an apartment and only have 2 parking spots. I think I know where this story is going. "You can have this bike if you come out and get it.", he continues. Awesome!!!  I really was prepared for this process to take a while since I promised my wife I won't get into the main account to make this happen.
I had spent the motorcycle fund getting the SV650 in shape (new chain, sprockets, oil change, brake fluid changed, etc.) and on the trip. I have a bike in CA but only $50 in my motorcycle fund. My wife says to go ahead and put the flight on the credit card now while the prices are reasonable and we'll figure out the rest. My work switched to a September close and they were giving out bonuses now. Woohoo, I'm back in business with a couple weeks to go.
As the trip draws near, my wife asks, "Why aren't you getting ready? You spent several evenings in the garage getting ready for a much shorter trip".  I explained that my camping setup is already lined up and the rest of the time was working on the bike and tweaking my packing. I can't do any of that until I get there so I'm just going to play it by ear.
Take the early Sunday morning flight to Burbank via Phoenix to get the cheaper price. I'm watching the roads flying toward Phoenix and wondered which of these roads I'd be on in the next couple days. I see I10 ribboning across as we get closer and know I'll be on it tomorrow afternoon.
We land in Burbank and go to grab my luggage. My dry bag has a bunch of scuffs on it. It still looked new despite hauling my camping gear on my motorcycle for a couple years. What do with our luggage when they handle it?
My sister-in-law picked me up at the curb and said we are going to Porto's Bakery for brunch. It was a very busy place, filled with so many great looking options. I decided on a Cuban sandwich and a guava and cheese rufugiado. It was delicious. A place with an orange juice machine that starts with a basket of oranges at the top can't be all bad.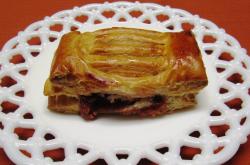 We get to Valencia and grab a Peet's coffee  before heading over to their apartment. I check the bike out and grab the luggage off of it and take it back to the apt. My niece gets on Skype and talks to my son back in OK. I say hi and my daughter gets so excited to see me in California. I show her the toy leopard she sent with me and she smiles huge.
The side bags are the BMW Vario bags and I got online to verify how to expand the bags. I realized that you just undo the latches and slide it out to expand it. I spend the rest of the afternoon packing and repacking until I get everything loaded up the way I want for the trip. I couldn't quite get everything in the hard luggage because of the extra stuff I brought for the flight. I throw the camping gear back in the dry bag and strap it down.
My brother-in-law makes it back into town and we go grab some Baja Fresh (I'm trying to avoid burgers/greasy until I get back to Meers,OK).  We take care of the paperwork and finish loading up. I'm riding the bike for the first time (I swapped bikes with my brother-in-law about a year ago on a ride so I've ridden it one other time) loaded down at night.
He says that he'll lead me over to the hotel I'm staying at so we take off. The horn is above the turn signals (backwards to other bikes I've ridden) so I honked instead of signaling to turn a couple times. My hands are getting hot so I need to figure out if off is to the left or toward the throttle. My hands are getting really hot now, I guessed wrong. Off is toward the throttle.
The view of Six Flags Magic Mountain from the hotel across I5 freeway. I didn't hear the traffic at all from my room.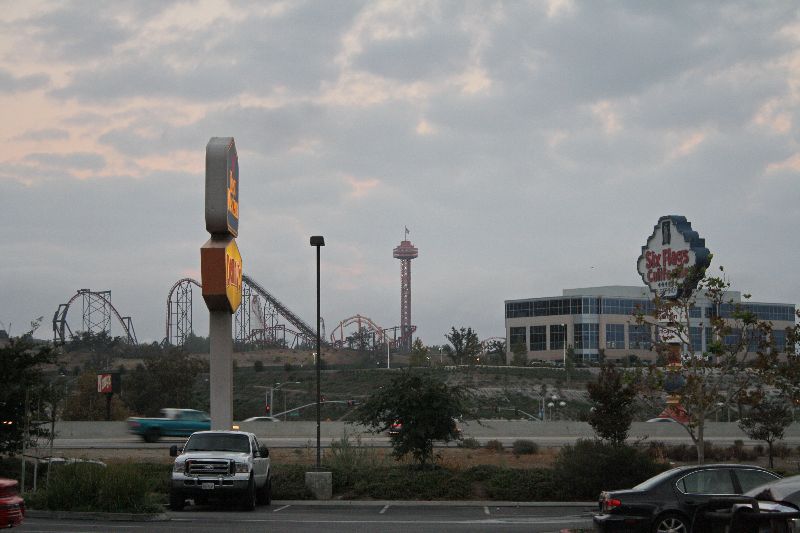 Day 1: 700 miles
All packed up and ready to head out in the morning after a good breakfast. Let's do this.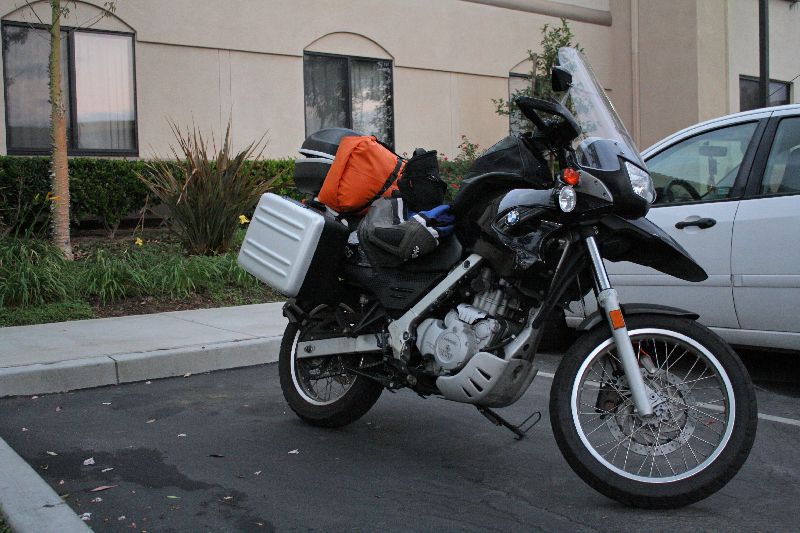 The plan is to stay off the freeways initially to get familiar with the bike then take I10 out to where I'm staying. The rest of the trip is going to be 2 lane roads to wander home.  I start down Soledad Canyon Road and stay parallel to Highway 14 for a while. It's a fairly quiet drive when I get passed by a Concours 14. He gives a big wave and carves on down the road. I pull over to swap to my dark visor. It was dark and foggy when I started but the sun is coming out while I head toward it.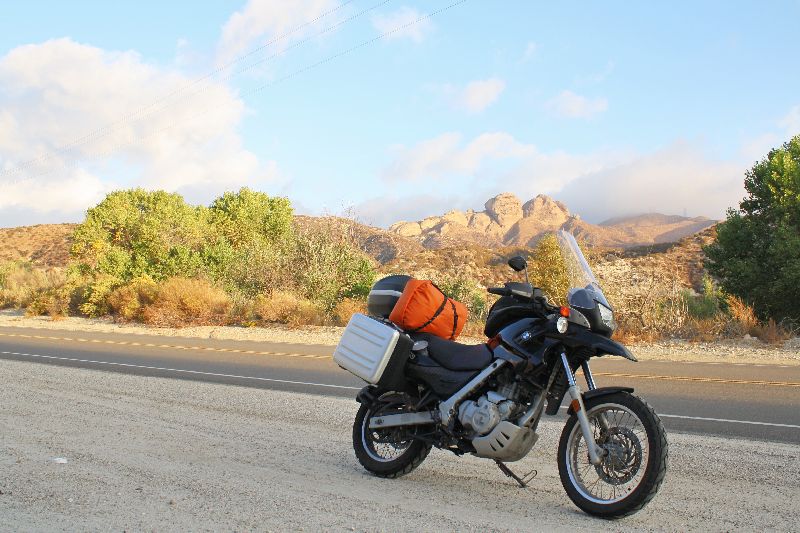 I turned down Pearblossom Highway and head toward I15. It was foggy and chilly when I dropped into the canyon. I turned the grips on low and enjoyed the scenery.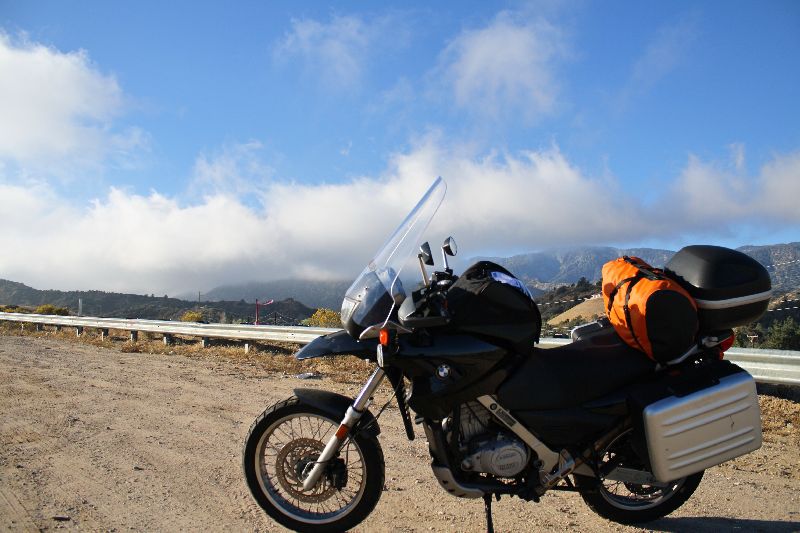 I stopped and bought some of the most expensive gas of the trip. There's video running at the pumps talking about how cheap the gas is right before the elections. I like that they have a propane fill option here too. I get on the freeway for the rest of the day.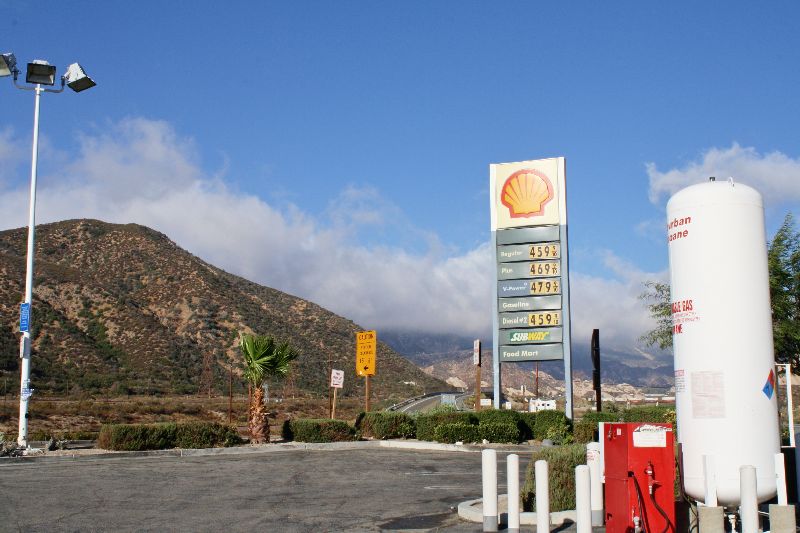 First full tank of the trip. I got 56mpg on this tank. This is going to be a great commuter bike. I go inside to pay and grab some more water. There's a guy sitting in a chair looking like he wanted to ask something but I had gone in the far door. I came back out the near door to see if he really had something to say. "Having a good day?", he asks. I replied that it's a good day. "Do you have a smoke I could bum?".  I replied "Sorry, I don't smoke" and he went back to staring off into the distance.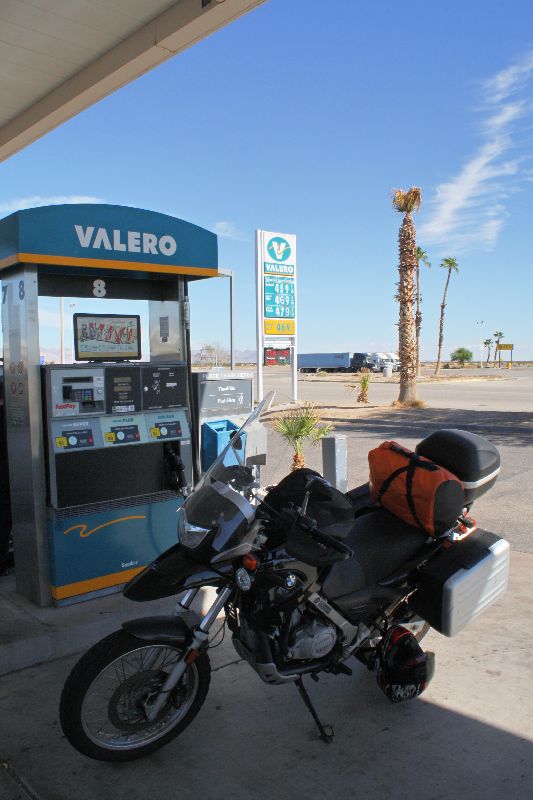 I realized that I didn't really need to take such southern route even in late October. I was wishing that I brought my perforated leather jacket instead of the solid textile jacket. I unzipped it to let some air through. Traffic was moving 85Mph+ for most of the day and my fuel economy dropped to mid-40's (still loving it gets that good running that fast). I passed a V-Strom 1000 while going through the Phoenix metro. He sees me heading by loaded up and gives a big thumbs up and smile.
Last stop for the day. I'm running out of daylight but call my wife to talk for a bit anyway.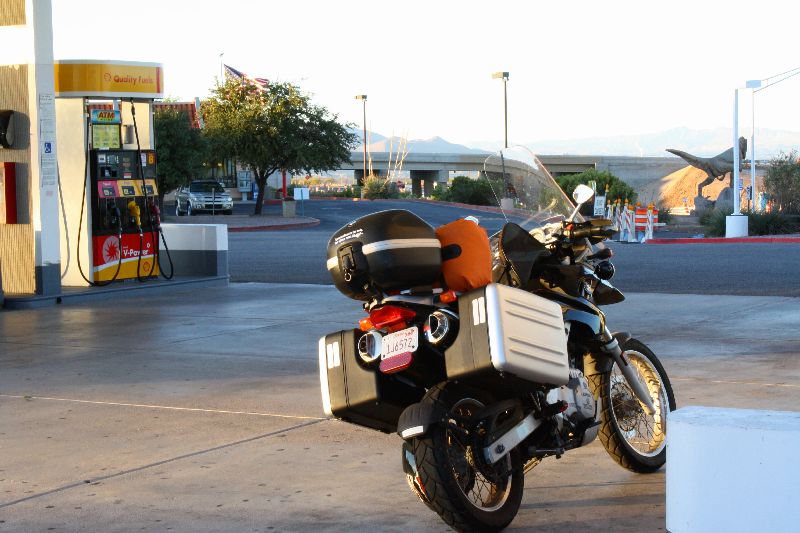 It's almost dark by the time I get off I10 and I still have the dark visor on my helmet. I just flipped up the visor and ducked behind the windshield since it's low speed from here. I contacted a couple guys on Advrider.com on the tent space thread. Xskydiver said I could stay in his toy hauler (camper with a cargo area for bikes, 4wheelers, etc.) if I didn't want to setup the tent. He texted directions and said he'd be home in a few minutes. They offered me fish tacos and we talked and watched TV until I was ready to call it a night. Xskydiver and his family are very friendly people. Thanks for having me.
It was a clear night and I could see so many stars looking out the window by my head. I woke up around 2:00am and the furnace was running but blowing cold air. It was 45 degrees in the camper according to my camp thermometer. I messed with it for a couple minutes and turned it down until it turned off. I was planning on sleeping in a tent so this isn't a big deal. Crawl under the covers and go back to sleep.
Day 2: 425 miles
It was chilly so I stayed under the covers for a bit and listened to the Hitchhiker's Guide radio on the ipod for a bit. It quickly warmed up so I got on the road. Today is a fun day. Highway 191 has been on my list of roads to ride for a while now and today is finally the day.
All loaded up and ready to head out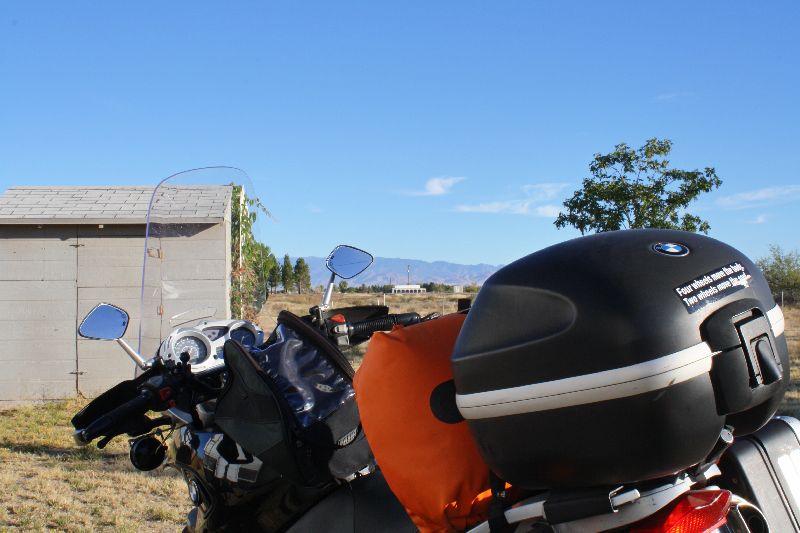 The road is 4 lane with the fun in the distance. I past a snake on the shoulder. Was that a rattler? Doesn't matter, he's long gone.  I went a little farther and saw a road runner on a rock. He took off as soon as he saw me. I didn't get a picture but here's a file photo.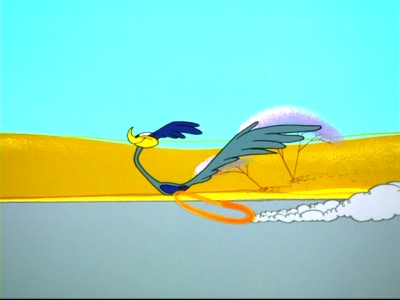 I ran into some traffic construction with a flagman. I turned off the bike, put the kickstand down and patiently wait. The people in front of me left the car running and kept trying to inch forward for the 20 minutes we waited. haha  Why do I always find the flagman, one lane bridge with signals, etc. on my overnight rides?  Every time.
A missed turn in Safford, AZ adds a half hour to the day. I get back on track and head east. I saw a cotton harvester next to a palm tree and solar panels on a house. I found it an interesting combination and climbed into the canyons.
I stopped to snack on beef jerky, trailmix and gatorade in Clifton, AZ in the bottom of the canyon. I took a few pictures and hop back on the bike. I hit the starter and it goes "RrrrrrrRRRRRRrrrrrRRRRRrrrrRRRRrrrrrr". I try to start the bike a couple more times and it doesn't even try to fire up. I'm about as far away from help from family as I can be on this trip and wondering where I can find a uhaul to bail out of this trip.
I flip up my visor and reach to put the kickstand down to discover that it's already down. I flip it up and "Vrrrroooommm". Why did you let it crank at all, BMW?!!? Any other bike I've had won't even crank if the kickstand switch is active. I breath a sigh of relief and get ready to climb out of this canyon.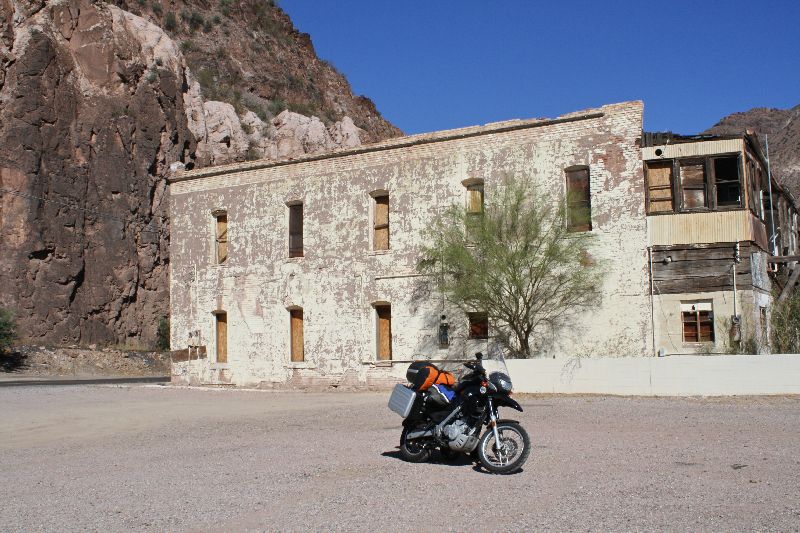 A look back after a couple climbs and a tunnel (3rd tunnel this trip). There's a bunch of 10Mph cautionary hairpins and I killed the bike on the turn right before this spot. Is there a tipover switch on this bike? It was a weird angle and it had plenty of gas. I'll have to check it out later.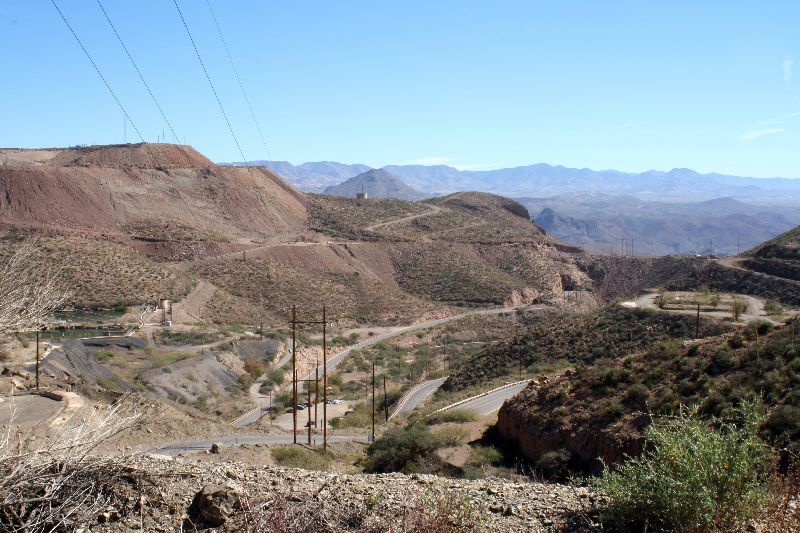 Highway 191 is full of stretches like this. It doesn't disappoint if you like curves.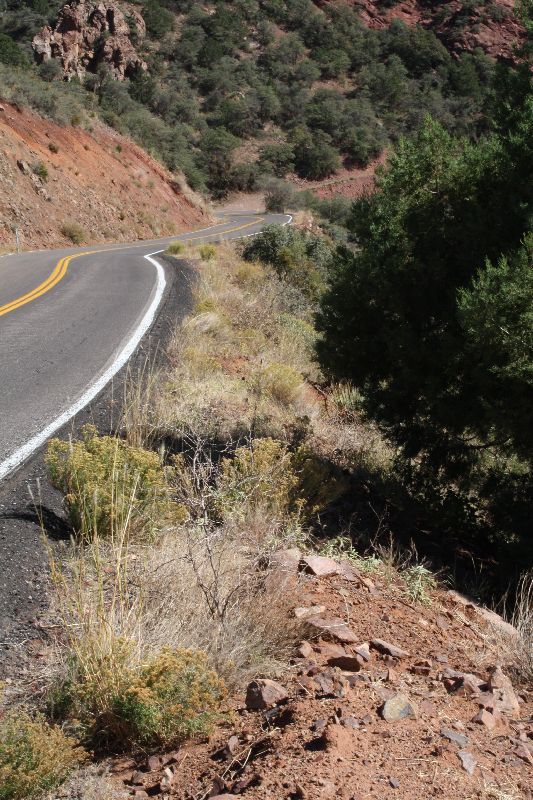 A look at another climb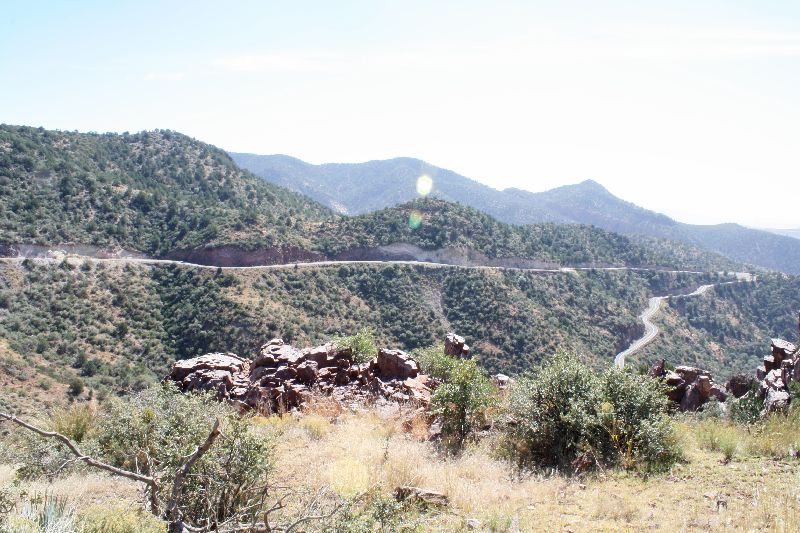 It's already later in the day and I've only made it halfway through this 100 mile of extremely twisty road.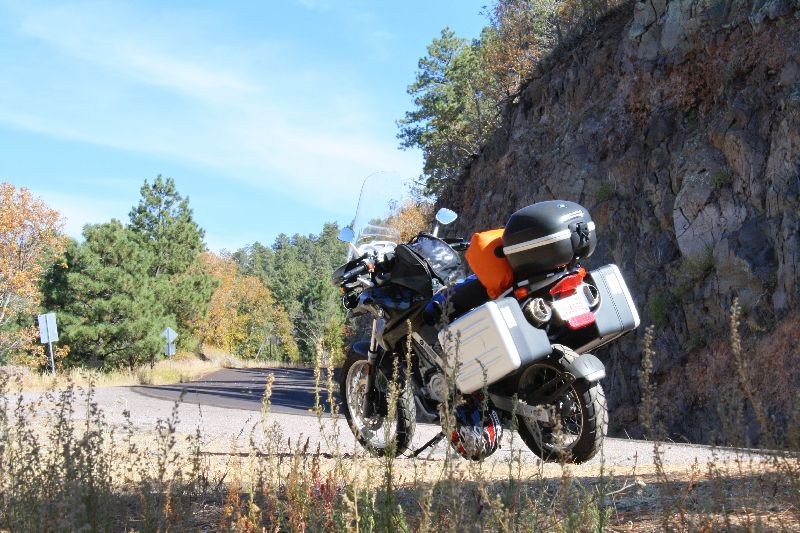 The roads are starting to open up some but still lots of fun. I passed some burned sections of forest and some fun winding through. It's a bit chilly and foggy. Turn the grips back on to take off the chill.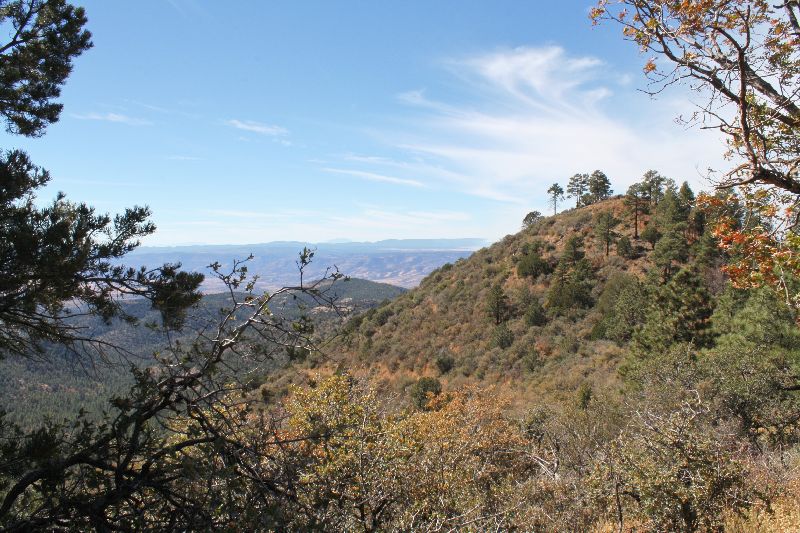 Turn east to New Mexico. The road has sweepers through a canyon along a river. Very nice view to go with the nice roads. The road turn straight and long with plenty of time to look around.
I thought this retro-fitted windmill was cool. Nice blend of old and new.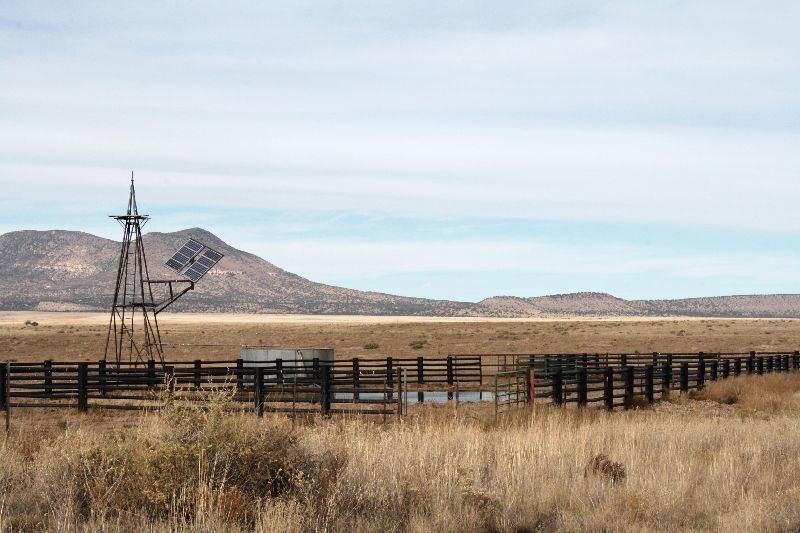 I drove by some large radio antennas on the way to my destination for the evening, Sorroco, NM. SirWrecksAlot on Advrider.com had offered a room to stay so I texted him. He was over at his shop so I met him over there. It was a real man cave. Alcohol, smoking, guns and guys sitting around talking about riding hard to control bikes with very little suspension back in the day. It was fun sitting around and listening to the stories of the evolution of bikes and enduro rides from 30 years ago. The party broke up and SirWrecksAlot took me to one of his favorite spots and bought me a philly. Thanks a lot for supper and the place to stay.
Day 3: 525 miles
A gorgeous sunrise briefly before it hides behind the clouds for most of the morning. I got on highway 390 and headed east through Billy the Kid's stomping ground. I stopped to add a layer and turned the grips on high before climbing into a warmer area.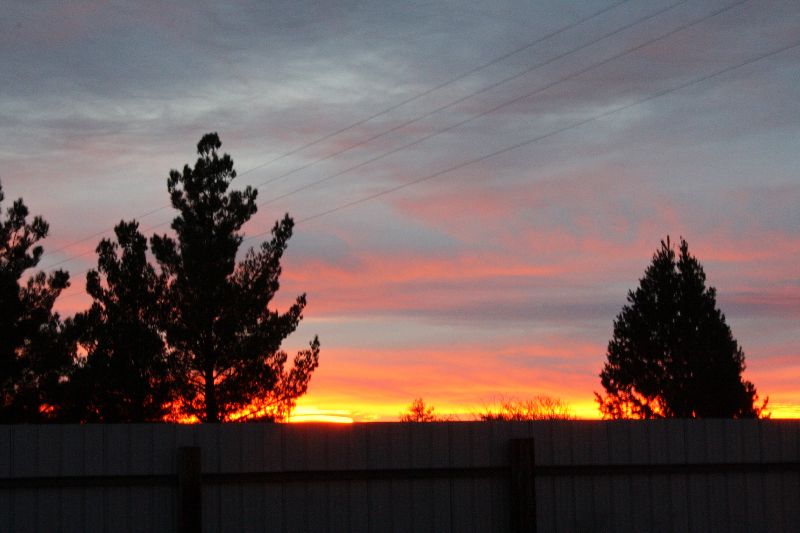 Roswell, NM didn't seem to have too much alien decoration until you get to main street then it's everywhere. I saw a bunch of the carved wooden alien statues at businesses everywhere. This place had creepy music playing outside from the speaker in the window.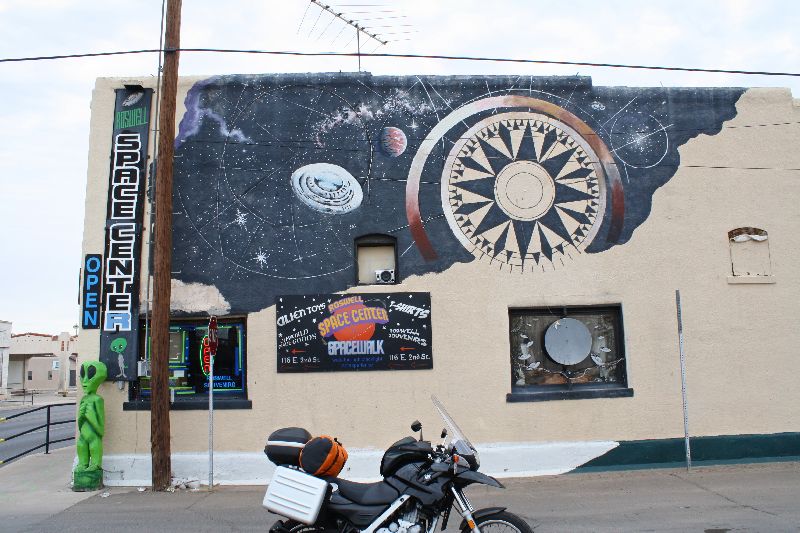 I stopped for gas and hung my helmet from the passenger peg. I got back around the bike and the helmet was hanging low enough to touch the ground and roll off. There's a big scratch right in the middle of my dark visor. Grrr
I knew the Red Bull Stratos landing was east here somewhere. I passed some bluffs that looked like the ones from the video and in the right place. I looked it up and it was just south of there. Stopped for a break a little while later near where the capsule landed.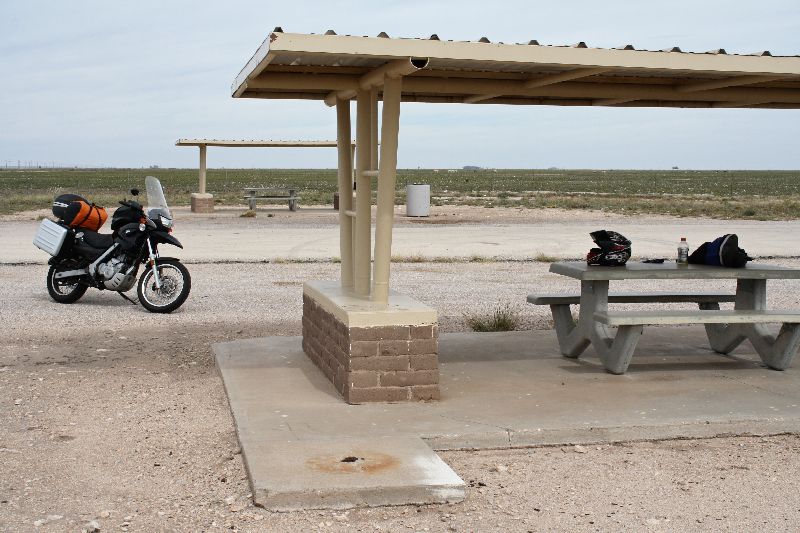 I ride into west Texas and notice a lot of cotton fields. Several people have windmills but none of the ones I saw actually had a pump connected (just decorative).  The wind is blowing from the south and but I'm not getting blown around much.
I see a "circus today" sign in Brownfield, TX and circle around the block for a picture. A minivan drives by slow and does a u-turn to pull up beside me. "Excuse me but do you know when circus will be", says the little old lady. I guess I look like I belong with the circus. I politely said that I was passing through and didn't know but it looks like they are mostly setup.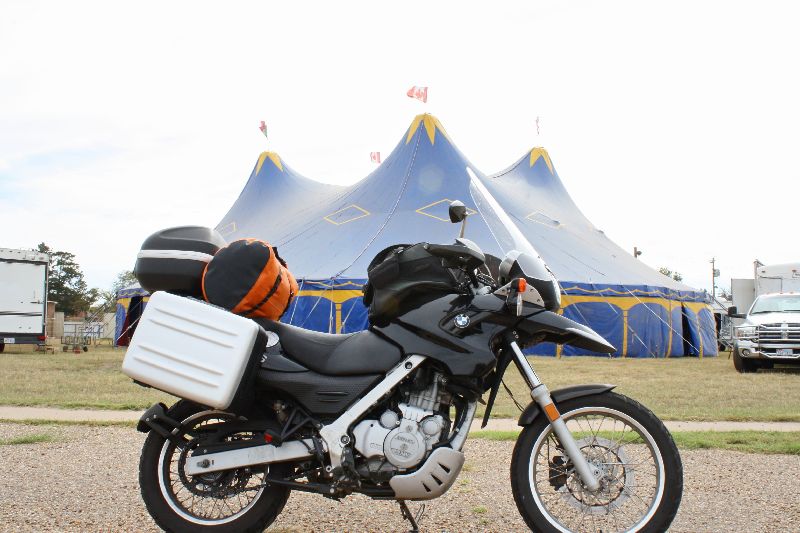 I pulled up to fill up in Lubbock, TX next to a retired guy in a motorhome. I finish fueling up and he's still going. "That still filling up?", I asked. He chuckles and we start talking. He asks where I'm going and coming from. I tell him I started in CA day before yesterday and going to be in Tulsa tomorrow. We talk a little more and wish each other a safe journey.
A couple more hours of Texas then cross the Red River into Oklahoma. I pull into Altus, OK and find a motel on the south east side of town. I'm unloading my gear while a tall skinny guy with a handlebar mustache and a pony tail watched me intently. He finally walks over and asks, "Do you actually take it offroad or is it an expensive dirtbike?". I explained that I just got it but have found some gravel roads already. He told me about a month long trip to Florida he took on a Harley a few years ago and about some other bikes.
I went down the street to Pizza Hut and got a salad and a sandwich, came back to the motel, took a shower and crawled into bed.
Day 4: 350 miles
The wind was howling when I woke up. It was a strong cold wind blowing from the north. Good thing it's a short day because I'm going to get blown around a lot today.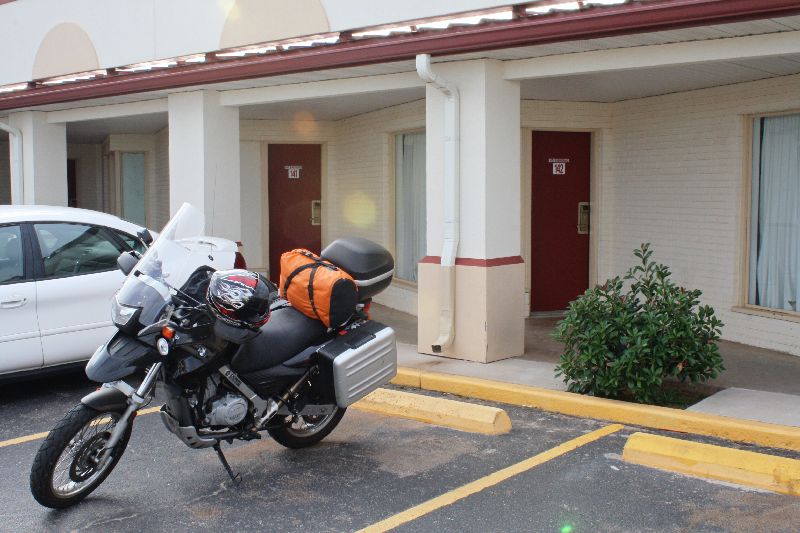 I head into the Wichita Mountain Reserve. I thought it was 3 or 4 mountains but soon discovered it's much larger. There's signs warning you to steer clear of the free range Longhorns and Bisons.  I wandered around some of the side roads. I came around the corner and saw 3 mature Bison galloping right beside me in the ditch. I just kept a steady throttle and went down the road. I turned around got my camera out and went back to get a picture but they wandered back into the trees.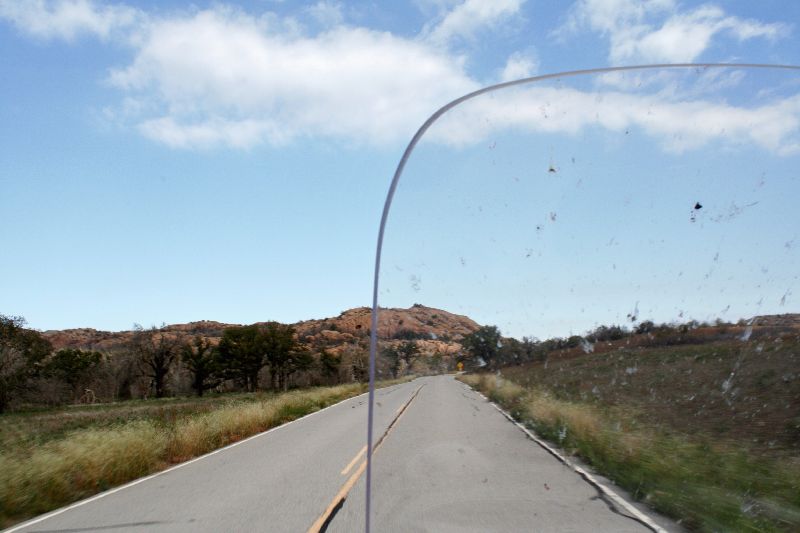 I found a dozen bison a little way down the road but they were much farther away.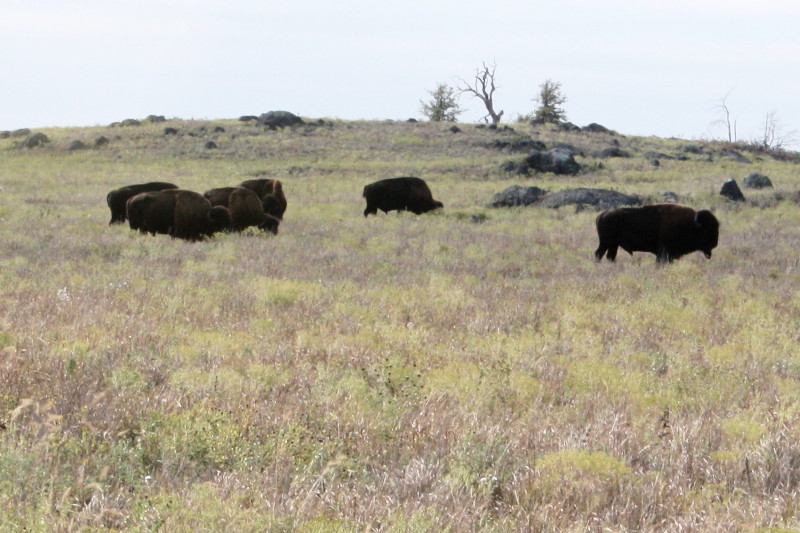 The Meers Burger is supposed to be the best burger in the region. I was definitely aiming to come through here during a mealtime.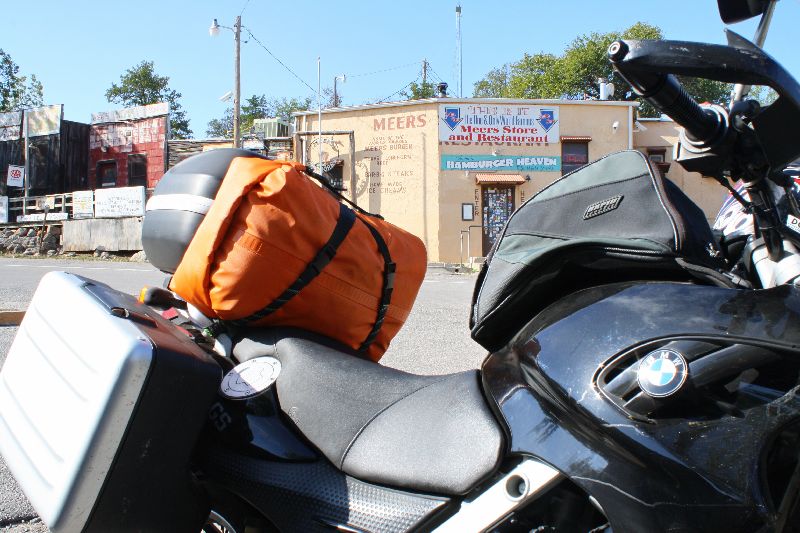 If it was't the best burger I've had, it's definitely in the top 5. A great burger and worth a drive if you're anywhere near.
The trip from Meers to OKC was wandering 2 lane roads until I got on I44 into OKC. I went over and caught I35 and took it to Route 66.  I stopped at Pops Restaurant to pick up some drinks to take home. They have over 600 different drinks from all over the world. I grabbed 4 random drinks and headed down Highway 66 to Tulsa.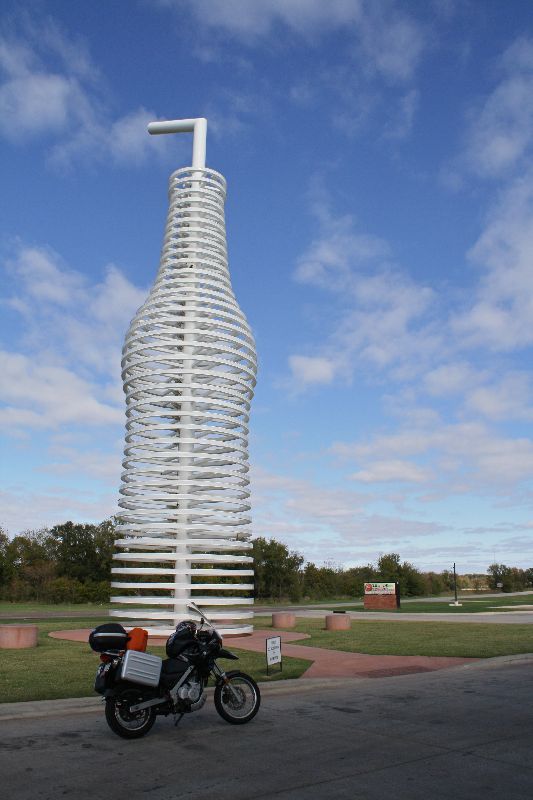 Here's the drinks when I got home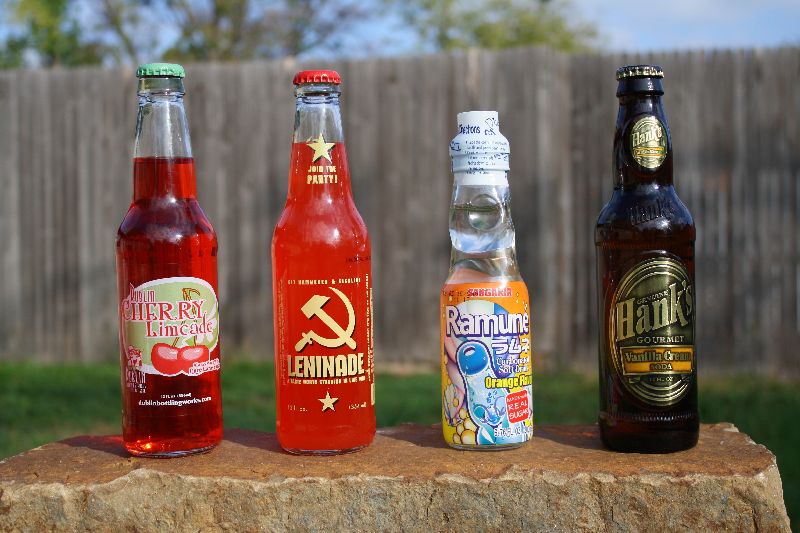 I ended up riding right at 2000 miles from California to Broken Arrow, OK.  The Wunderlich tall seat is very comfortable. I felt like I could have gone much farther on it when I went 700 miles.