List of mods on my SV
A list all the things I've done to my '06 Suzuki SV650 motorcycle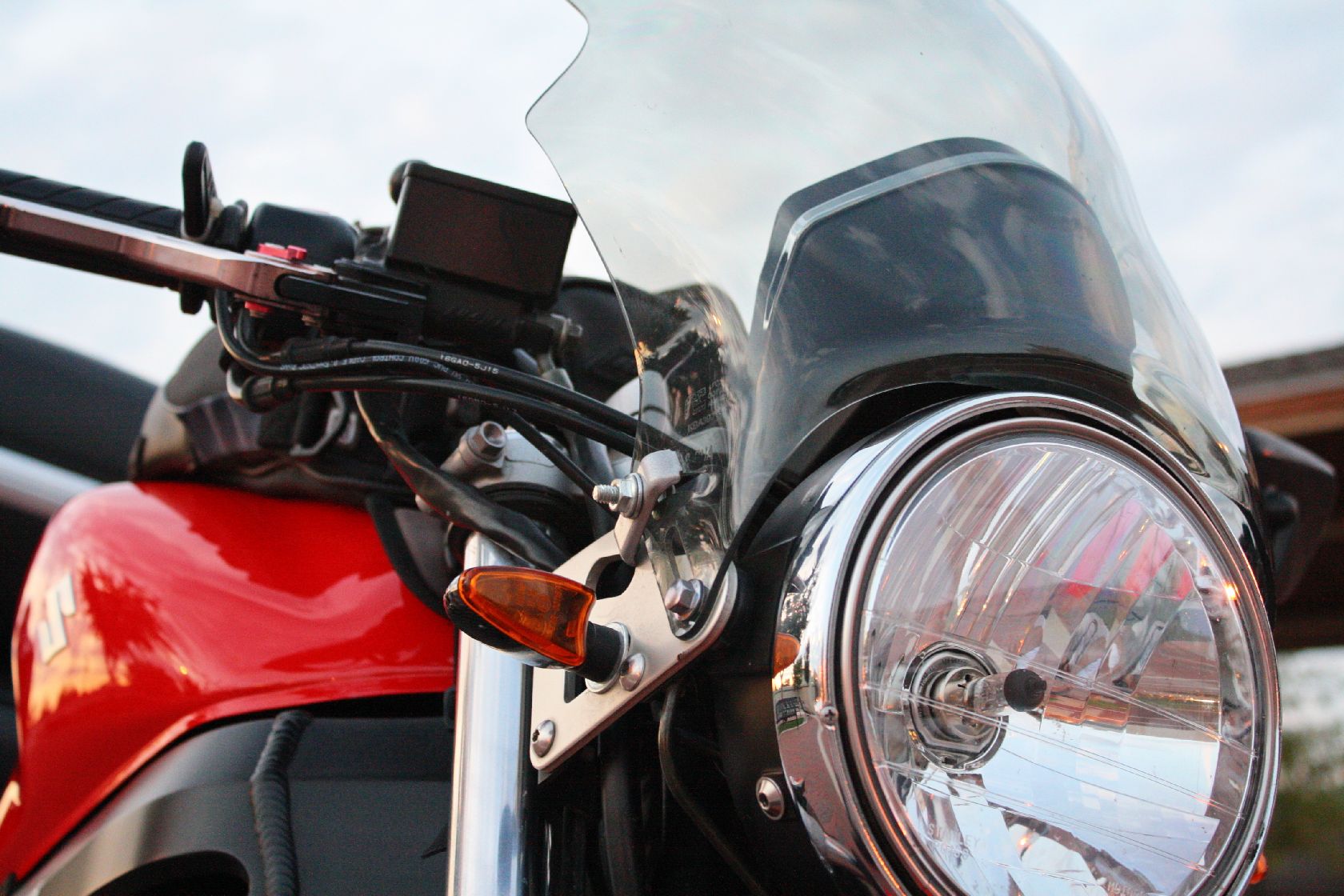 I figured it's finally time to look at the collection of mods that I've done to this bike as I get ready to send it to its new owner in a few days.
I bought this bike used in the end of January of 2007. It's an '06 model that had been purchased the August before and traded in with 4506 miles (It will have 29k miles when the new owner gets it). There was another SV650 with the same age and mileage. 6 weeks later they bumped it up to the spring pricing of $800 more than I bought mine for. Pays to shop early. It came with a fender eliminator, license plate bracket in front of the rear wheel, LED front turn signals and some clear surface mount rear signals. I didn't like the plate where it might get me hassled so I moved the plate to the back of the bike again. I swapped bikes with my brother-in-law and noticed those rear turn signals were close to worthless. That's where the changes started.
Here the mods on it currently:
$10 license plate bracket off eBay with turn signal mounts
Shorty arrow turn signals with orange lens (carbon look). Clear looks cool but doesn't shine out very well.
Napoleon bar end mirrors. Huge improvement over looking at your shoulders with the stock mirrors.
Changed the right mirror mount out for the S model mirrorless mount.
Ram mount in left mirror socket and Ram mount on the right side. Lowrance XOG GPS on the left and camera mount on the right.
'06 ZX10R rear shock at 22k miles. 1/2" higher in the rear and lots of adjustments. Why did I wait so long to get rid of the pogo stick in the rear?
.85 Sonic Springs and 20w fork oil. Really firmed up the front and got rid of most of the fork dive.
R6 throttle tube. Same size as stock but larger cam so it takes 1/5 turn instead of 1/4
Exhaust. I modified the exhaust by drilling eight 1/8" holes around the baffles. It makes a little bit more noise but still can be stealthy. It also dropped 3mpg. Probably make me think twice about doing it again.
Trackside heated grips. Replaces grips with larger diameter grips with heater built-in. The adjustable controller is mount on the left side of the bars.
Bikemaster Superbike bend handlebars. Lower than stock and more comfortable wrist angle. Black looks good too. I cut 1" of each side to keep it around the stock width.
eBay adjustable shorty levers. Black with red adjusters. The black faded to silver in a few weeks but they work well. Quality is hit and miss on eBay with Hong Kong items. I won't go into the Rizoma knockoff mirrors that broke instantly.
USB socket. Great for GPS or charging a phone. Direct connect (fused) to the battery with SAE connectors. Unplug it and connect the battery tender or grab the Slime air pump under the passenger seat. Very useful setup.
Sargent seat. Massive improvement over the stock seat. Matching cover for the rear seat.
Quick release seat mount. It extends the mounts so you can flex the seat to take it off. Got this from svrider.com.
Quick open gas cap. Replaced the damaged one and now have a replacement stock cap too.
Spring loaded shifter. The stock shifter was ruined in the crash. This should hold up better.
SW-Motech rear rack with Givi Monokey plate.
SW-Motech side racks with locks
Seahorse SE720 cases with keyed locks bolted directly to the side racks. Flat straps for retention and 1/16" steel cables for the lid stays.
Rapid Transit Recon 19 liter tank bag with hydration pouch. Awesome tank bag.
National Cycle F16 touring screen (light tint). I cut it down to the sport height after the bike was stolen and recovered because it buffeted my new helmet(Shoei RF1000) than my old helmet (Caberg Solo 104).
Alarm. I got this from a friend (not sure the model/brand). It was on the bike when it was stolen but not armed. It just flashes the lights and sounds the siren but that probably would have been enough. I always set it now if I'm going to be out of sight of the bike.
Quick release for the side panels. The bolts were lost when the bike was stolen so I bought this off of svrider.com instead of buying new panels (the only way to find the special bolts).
I didn't realize quite how long this list was going to be when I started it. I shouldn't be surprised because I spent a lot of time piecing this together and still have more plans for the future ( tank grip pads, TL1000s shift arm for shorter throw, etc). He's going to have to start his own list of where he wants to go from here(I gave him a couple good suggestions).