My solo ride today to MO/AR
A day trip on the bike to Missouri and Arkansas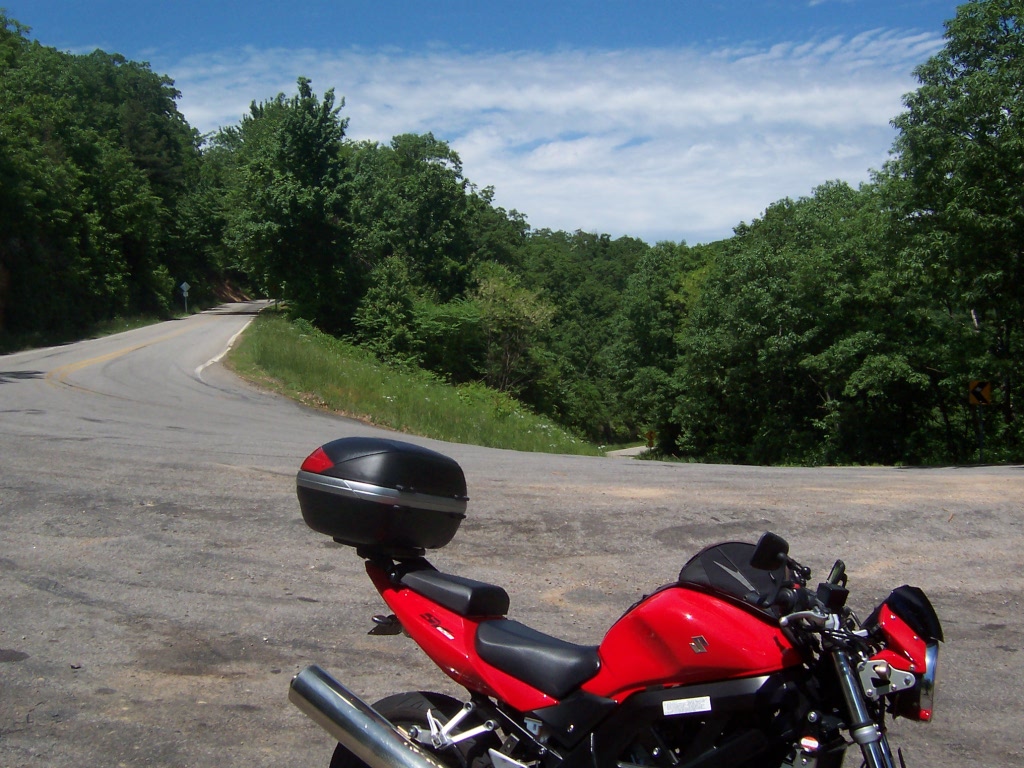 I didn't know where I was going until I looked at the map and walked out to the garage. I thought about checking out to see if MO Hwy 90 was fixed yet or maybe see if the rockslide damage was fixed on the Pig Trail (AR Hwy23). I decided to do both.
It's pretty chilly this morning and looks to stay mostly that way all day. I grab my solid textile jacket since it's my cold/rainy choice (it sucks at 85+ degrees even with the vents all open) and put an extra layer under my solid riding pants. Everything feels pretty good going down the road except for some chilly air on my left wrist and crawling up my arm. I pull over and see that the cuff on my jacket is twisted and letting air in. I straighten it up and everything feels good. I'm I would turn on the heated grips if I'd stop procrastinating about getting some. I noticed that I have a little more than half a tank and decide to keep rolling. They sell gas on the road and I want to make Oark Cafe for a late lunch if I can keep moving enough today (it's already 8:00).
I'm heading up county line road to I44 and all the construction but traffic is light so I get rolling down 412 pretty easily. It's nice getting rolling before everyone else gets going. It's a quiet ride on 412 for the most part. The cross wind starts blowing harder or changing directions and gets under my helmet. My eyes are starting to water so I shift around to get it to stop. 412 runs out, I turn at Sam's Corner to bypass Locust Grove. The low fuel light starts blinking so I fuel up at the station just west of the lake and get ready to make my Spavinaw run.
I'm running through the first part and I see a tractor up ahead. I'm getting closer and see it's a tractor on a trailer being going into the twistier part of the road. He's running 35 and crossing completely into the other lane. I hope for him to turn off but he's still going. I can see that it's clear for at least 3 turns away and I twist the throttle. He's already across the line by a couple feet and going but he can have it all because I'm gone and not waiting around for him to crash head on into someone. The rest of the way to Spav is fun but over too soon after following the tractor through half of it. The car in front of me on the north side of town pulls over apparently to park. I look in the mirror and see him pulling right back out. I give him a big wave to make sure he knows I'm grateful that he let me by.
I have Summerfield Road all to myself so I'm working on being smooth rather than fast. I glance down at my speedometer and think "I guess you can do both". Several nice turns in the cloudy and a bit chilly day until I run into a slow car on the last couple curves. I settle in to follow the car into town and turn toward Missouri.
Just over 2 hours into the trip and I finally get to see what condition Hwy90 is in. I haven't been on it for 3 years so I'm not sure what to expect.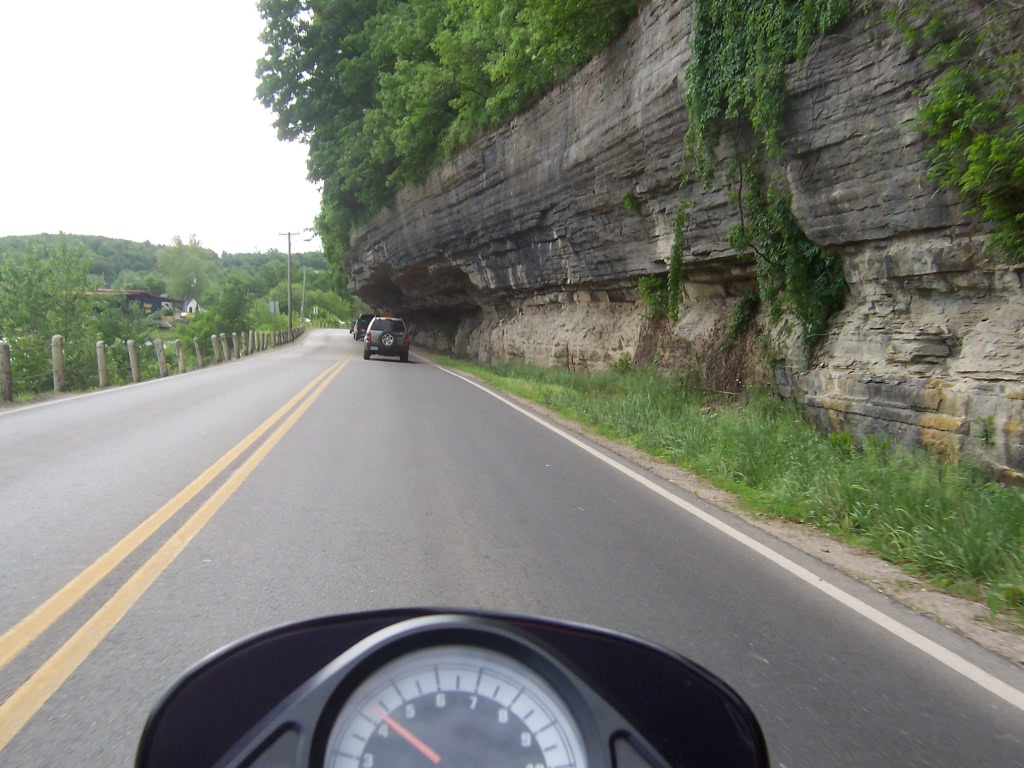 The first few curves out of town are rough with a groove in the middle of it for my tire to try to fall into. I hope the rest of the road isn't like this. The next part has some patches but not holes or sunken sections. It's very rideable and still fun. The middle of 90 is repaved in sections and nice with the roughest parts just outside of Noel and just outside of Washburn. I'm not going to wait another 3 years to take this road.
Let's skip the drivers that can't stay in their lanes going 20+ under on the way into Eureka Springs.
The trip down Hwy 23 is pretty good today. The sun is out and the chill is mostly gone. There's lots of sweepers and not a lot of traffic today. I know the damaged sections are coming up in the forest. The foliage is thick and I flip up the inner sun visor in the forest. Everything is looking good when I run into the construction signs. Around the corner and see all new pavement on the first redone section. They must have just finished it because it looks done and the signs are all still up with the warnings. The next repaired section is the same (nice new pavement with all the warning signs still in place). I wonder if the photographer is going to be in his usual spot on the south side of the forest. Looks like he found something better to do on a chilly day.
Hwy 215 turnoff and I'm starting to get hungry. There's signs about construction and local traffic only so I'm wondering how bad it is. The first part is normal and it's a nice ride along the river until I take a turn much faster than I should have. My thoughts are running but I'm totally calm through this ("I've got this" "The bike can do this" "You can do this too"). I see I'm still completely in my lane so I give some gas to keep it stable and kept on going. Why do little minor things give you mini panic/pucker moments when you can do stuff like this? I realize that maybe I pushed lunch a little too far and my focus isn't what it was earlier in the day. I back off on the pace a bit more and look for the construction that's coming up. I meet a few sport bikes, cruisers, BMW RT, Goldwings. I figure if these guys came through there then I surely can. The pavement isn't too bad but some of the rock (gravel) that you have cross is a little deep in spots. Slow down and keep straight. I made it through but think about maybe checking Hwy 103 to the south instead of going back this way. I hear it's pretty good and I haven't been on it yet.
Oark Cafe. There's some Goldwings and cruisers out front so I park on the side next to a yellow & black BMW F800GS (still my favorite color combo on that bike). I walk in and order one of the best burgers around.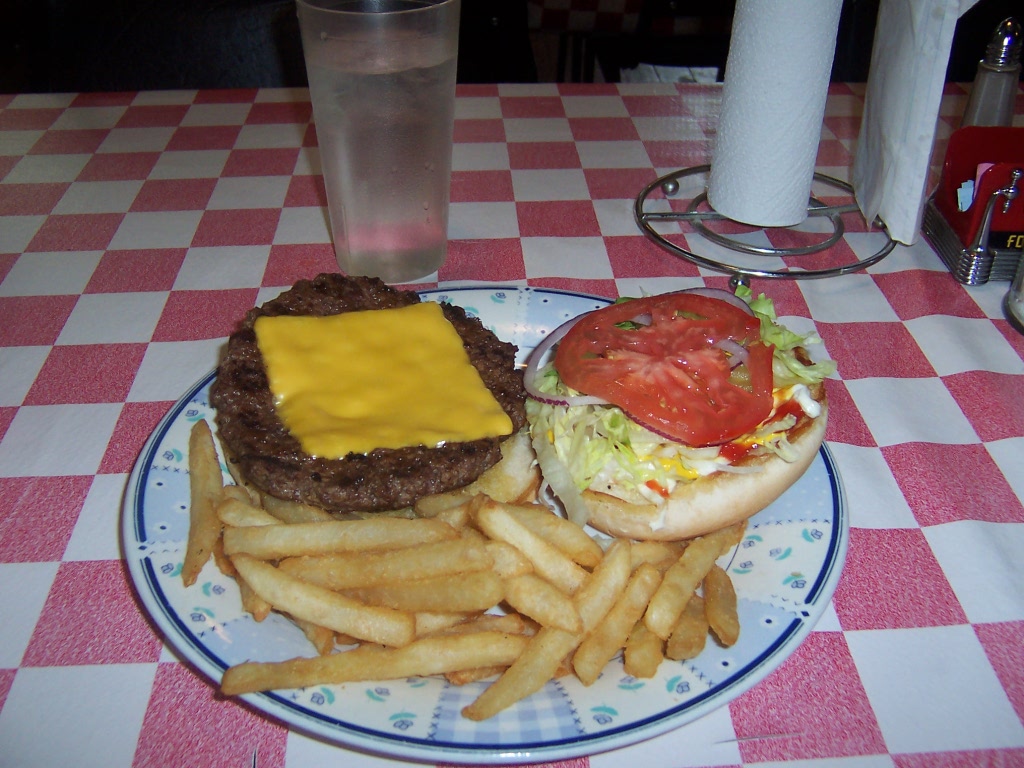 Here's 103 just south of Oark, AR. Over 400ft drop in those first few curves.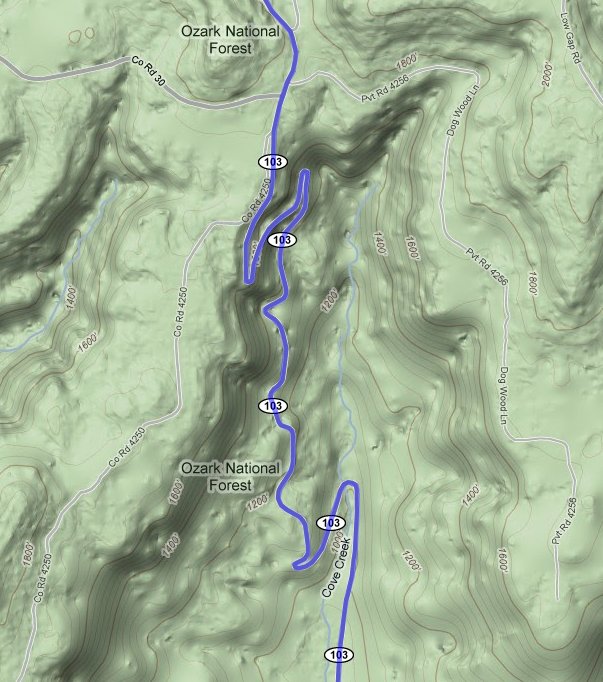 Here's the view from the first 10mph switchback. There's a waterfall just below this but I was already too far past to take the picture when I saw it. The road was too steep to push back up and I didn't want to turn around in a blind corner.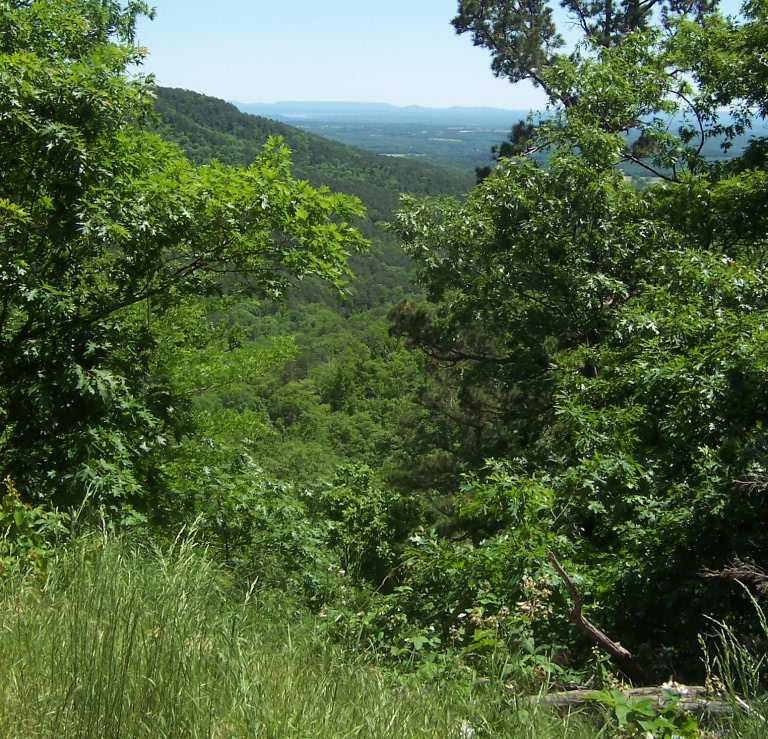 Here's the first switchback. The sign before this said 2 1/2 miles of steep downhill grade and they aren't kidding.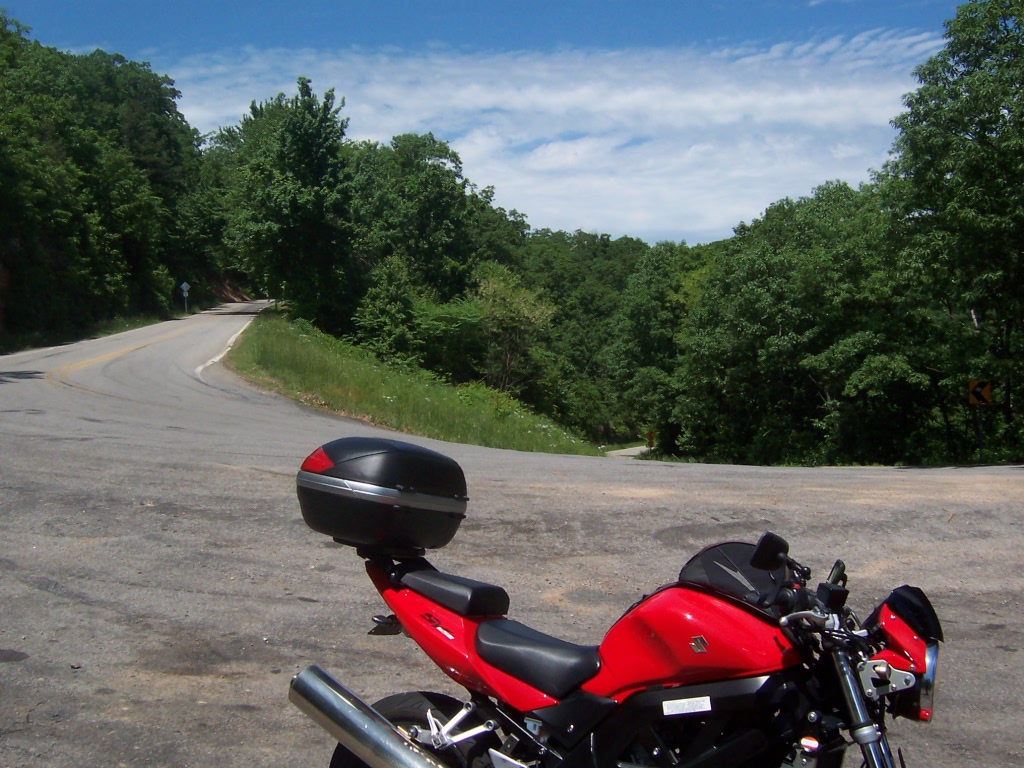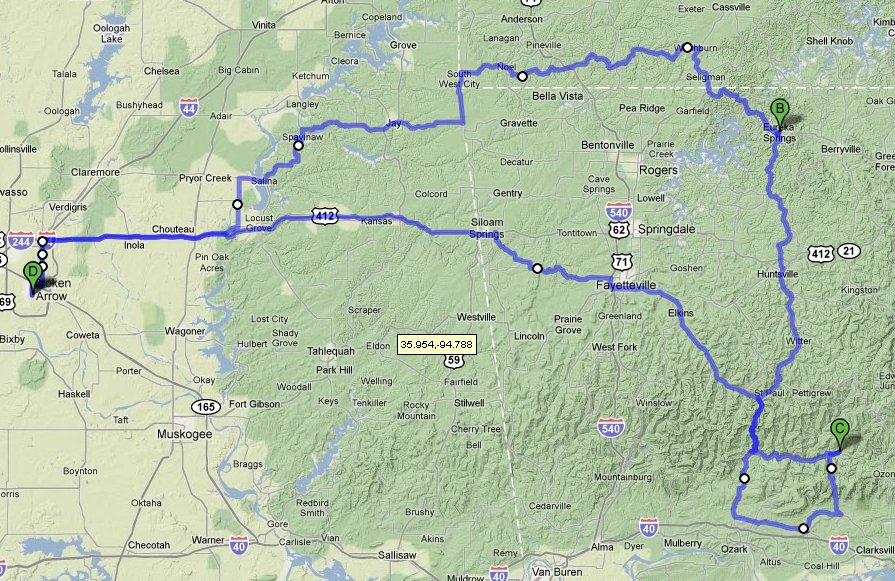 Here's the route I ended up taking today. It ended up being around 450 miles. I think I'm ready to do something with that stock seat.